← Back
9 Inch Round Decorated Cake $24.99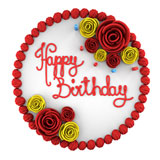 9" round cake – Double layer. About 20 servings. Choose your cake and frosting flavor. Comes with simple icing border and short custom message.
Please select weekday delivery options only.
Please allow 5 days notice for delivery.We do not deliver on weekends.
If your desired order delivery date falls within 3 weekdays notice please email harling-desiree@aramark.com for an edited delivery date.

A $3.00 handling charge will be added at checkout to this gift purchase.