← Back
Snack Attack $22.59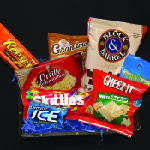 Cheese Crackers, King Size Reeses, Gum, Potato Chips, Popcorn, King Size Skittles, Grandma's Cookies, Trail Mix
Please select weekday delivery options only.
Please allow 5 days notice for delivery. We do not deliver on weekends.
If your desired order delivery date falls within 3 weekdays notice please email harling-desiree@aramark.com for an edited delivery date.
A $3.00 handling charge will be added at checkout to this gift purchase.